COVID-19 Update
We're meeting together again and observing directives of public health officials. 
The Sunshine Coast Quilters' Guild is the um
brella organization for five local community quilt groups from Pender Harbour to Gibsons, with a membership of 86+.
The guild promotes the joy of quilting on the Coast by providing enjoyment through quilt shows, classes, demonstrations and displays.
We meet eight times throughout our Guild year, from September to May. As of September 25, 2021, we are now meeting at the Sechelt Seniors Activity Centre, 5604 Trail Ave, Sechelt, in the Auditorium. Our meetings consist of Mini-Workshops, Business Meetings, Show and Tell, and a Program.
Memberships
Guild memberships are renewed each year starting in September, and are valid until the end of September the following year. Memberships cost $50. One-half year memberships (February – May) cost $25. We welcome guests (there is a $10 drop-in fee) and love to have new members join us.
SCQG presents the 2023 Quilt Show Raffle Quilt:  Tickets now on sale; 3 for $5.00. Guild members have tickets and local quilt stores will have tickets for sale soon.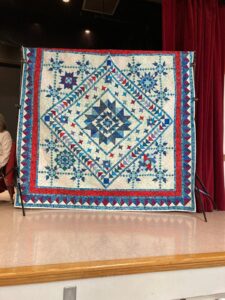 SUPPORT RECEIVED FROM GIBSONS ROTARY CLUB:
January, 2023 Dave Code, President presented the SCQG with a cheque to assist the SCQG in continuing to pay for storage for the frames which we use to display quilts at the Quilt Show.
SUPPORT RECEIVED FROM SECHELT ROTARY CLUB:
March, 2023 Charlene Krohman, Treasurer of the Sechelt Rotary Club presented the SCQG with a cheque to assist the SCQG in being able to fully pay for our storage locker and frame storage.

Between these two Rotary Club's financial assistance the SCQG is going to be able to continue having our frames and quilts safely stored.
Satellite Groups